Challenge Your Body Like Never Before In Our Group Fitness Classes in New Orleans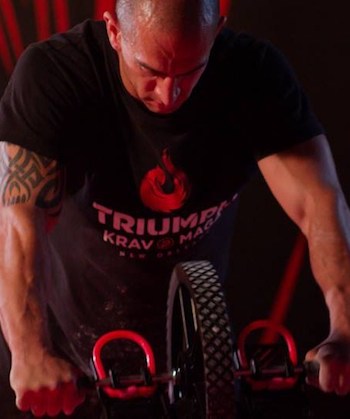 Tired of that boring exercise routine? Change the way you train and get more out of your body than you ever thought possible with our Group Fitness Classes in New Orleans. This program offers some of the most dynamic training around - and we have something for all skill levels and abilities.
Come see us today for Monkey Bar Gym Functional Fitness, Kettlebells and Yoga!
Just fill out the short form on your screen to learn more!
What Can You Expect From Our Group Fitness Classes?
We're doing things just a little bit differently here at Triumph Krav Maga. Our Group Fitness Classes are designed to challenge every muscle in your body and take on a path to sustainable success.
Come see us in New Orleans and try out:
Natural Training: This program is machine-free and completely shoeless! Yep, you read that right. We're helping you learn how to build strength, speed, and stamina with a focus on functional fitness and an adherence to everyday movements that can help you see real results.
Restorative Yoga: Take a break from the fast pace of fitness training and focus on building balanced, restorative strength. We're helping you improve your posture, relieve stress & pain, and focus on your breathing like never before.
Why Is Group Fitness At Triumph Krav Maga Right For You?
If you've been through other systems of fitness training, you know that it's easy to get lost in the crowd and feel forced to just go through the motions.
That's not us.
Our Group Fitness Classes are helping people of all backgrounds stay challenged and supported on the path to improved health and wellness. We're here to help you find a system that works best for YOU.
When you join us in New Orleans, you can take on:
Professional coaching and instruction
Unwavering support from everyone around you
Cutting-edge facilities and targeted training programs
A great sense of accomplishment after every single workout
Take The First Step Today! Learn More About New Orleans's Best Group Fitness Training
Don't miss out on everything we have to offer at Triumph Krav Maga. We're changing the way you think about Group Fitness training and we're setting you up for success from day one.
Join us in New Orleans to try it out today or fill out the short form on your screen to learn more!